UK National Schools Dance Championships - Online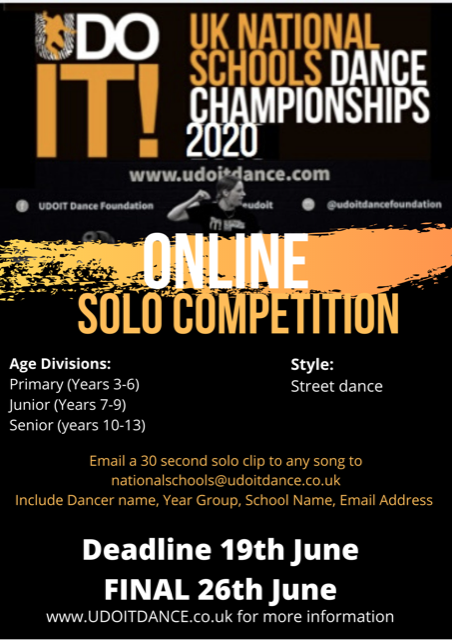 9 June 2020
We want young people to have access to great opportunities whilst in lockdown, we are going to bring an adapted National Schools Championships to our schools across the UK- ONLINE!
Kickstarting the series will be a new online solo competition.
Young people can represent their school by submitting a 30 second solo routine, which will be shortlisted by a panel of judges and a final will be hosted on which would have been our UK Finals date- Thursday 26th June.
We will operate the same age divisions as we would have at our national schools championships:
Style of dance: Street dance
Initial entry:
Record

a 30 second video of your solo routine, this can be done to ANY song of your choice

Email

this video to nationalschools@udoitdance.co.uk by Friday 19th June

along with:

Dancer Name

School Name

School Year Group

Email address (must be an active email address

as qualification to the final details will be sent to this email)
Those who have got through to the Final on Thursday 26th June will be notified by email by Tuesday 23rd June.
If you are through to the final
You

will be notified via email that you have been successful in progressing to the final on the morning of Tuesday 23rd June

The

email will then contain the song title that your final solo routine must be recorded to and the length of time to dance

This

must be emailed back to nationalschools@udoitdance.co.uk

No later than 25th June 3pm.
The Finals- Thursday 26th June
We

will be hosting 3 FREE 30 minute workshops that ANYONE can access whether you are in the competition or not. These workshops will be operated via Zoom.

The

judges will have all the videos of the finalists and will judge them as if they were judging the participants live on the day

The

results will be announced via Zoom at 3pm on Thursday 26th June

Medals

and Certificates will be sent out in the post.

The

videos of the finalists will be uploaded to UDOIT Dance Foundation social media.
We have lots on online free resources should pupils need some street dance training before creating their 30 second solo routine. These are all available on our website resources page (www.udoitdance.co.uk) our YouTube Channel & Facebook page (UDOIT Dance Foundation). We are also hosting live street dance classes next week over on our Facebook and Instagram accounts.
We hope to see lots of you get involved!